Project Safe Home is a program for clients currently enrolled in Peole Who Care.  The purpose is to prevent accidents by checking for potential hazards such as fall risks in the home.

     During the visit, free safety items and devices are provided as needed and appropriate.  There is no charge for the safety visit or the items.
Volunteers provide non medical assistance with:
Rides to essential appointments

Grocery shopping

Personal Paperwork

Neighborly Visits

Reassuring Phone Calls

Home Safety


Emergency Call Units



Enrollment Criteria
Reside in Chino Valley, Prescott, Prescott Valley or Dewey


Adults - Minimum age of 18



Single or Couple living on their own

      Unable to drive

Currently living independently (there are exceptions)

Family or Community Support Network is limited or not available

The enrollment process includes both a phone interview and a home visit by one of our volunteer Intake Coordinators. There is never any charge for the assistance provided. 
Click the tab on the top of the page for information about the program outreach in Chino Valley, Prescott or Prescott Valley/Dewey.


Nancy Reynolds, Program Manager
     505 W. Gurley Street - Campus of the Prescott         United Methodist Church
Sallie Stewart, Program Manager
8098 E. Valley Road #C, Prescott Valley
Marie Bernardo, Program Manager
735 East Road 1, Campus of the Chino Valley United Methodist Church
CONFIDENT LIVING WITH LOW VISION COURSE

Click on the Community Education & Support Tab at the top of the page for information.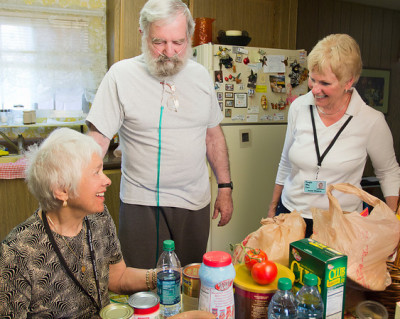 T

ogether we build strong communities.